In case you missed it:
What happened last season?
New Orleans Saints 12-4
Tampa Bay Buccaneers 11-5
Carolina Panthers 5-11
Atlanta Falcons 4-12
Both Tampa Bay and New Orleans made the playoffs during the 2020-21 NFL Season. The Buccaneers defeated the Washington Football Team 31-23 in the Wild Card Round while the Saints took down the Chicago Bears 21-9. The division rivals then squared off against each other and Tampa Bay prevailed 30-20 over New Orleans. Saints QB Drew Brees threw 3 interceptions in what would be the last game of his illustrious NFL career. Tampa proceeded to win against the Green Bay Packers 31-26 in the NFC Championship (read more about that game in our NFC North preview). The Bucs and their age-defying QB Tom Brady finished off their miraculous season with a 31-9 resounding victory over the Kansas City Chiefs to win Super Bowl LV.
What to expect this season?
Tampa Bay Buccaneers
This off-season the Bucs became the first team in NFL history to bring back all 22 offensive and defensive starters following a Super Bowl victory. Understandably, they are the heavy favorites to win the NFC South at -185 (odds taken from FanDuel Sportsbook on 8/18/21).
Offensively, Tampa Bay struggled to run the ball well last season only averaging 94.9 yards on the ground per-game. That was tied for 4th-worst in the league with the Jacksonville Jaguars. However, offensively QB Tom Brady and his WR trio of Chris Godwin, Mike Evans, and Antonio Brown flourished averaging the second most air yards in the NFL with 289.1 per game. Tampa will look to get their RB trio of Leonard Fournette, Ronald Jones II, and newly acquired Giovani Bernard better production this season.
While Brady and the offense got most of the spotlight during Tampa's Super Bowl run last season, it was their defense led by linebackers Devin White and Shaquil Barrett that carried the Bucs throughout the season. They gave up the fewest rushing yards-per-game in the league (80.6) and their secondary was able to bend but not break all season while giving up only 22.2 points-per-game to opposing teams.
Barring a major injury, it's hard to fathom the Tampa Bay Buccaneers not getting an opportunity to repeat as Super Bowl Champions this season.
New Orleans Saints
Since 2006, the Saints have had the luxury of having surefire Hall-of-Famer Drew Brees behind center. Now the QB position is New Orleans biggest question mark. QB1 candidates Taysom Hill and Jameis Winston possess vastly different skill sets and neither player appears to have locked up the starting job yet. While it is difficult to assess what 2020 offensive stats may carryover to this NFL season given the QB situation, it is easy to appreciate what RB Alvin Kamara brings to this team. A threat to score every time he touches the ball, Kamara led the NFL with 21 touchdowns last season including 6 TDs in a 52-33 rout over the Minnesota Vikings on Christmas Day. More uncertain is the wide receiver position. Michael Thomas will miss at least the first 6 weeks of the upcoming season and all of the other Saints pass-catching options are unproven.
On the defensive side of the ball New Orleans had a breakout season from DE Trey Hendrickson (13.5 sacks, tied for 2nd most in the league) but elected not to re-sign him this off-season as he was picked up by the Cincinnati Bengals. However, they possess plenty of other quality players on a defensive unit that gave up just 310.9 yards-per-game last season (4th fewest in the NFL). Unfortunately, the offensive question marks may place too great a burden on the Saints defense this season. New Orleans is currently +330 to win the NFC South.
Atlanta Falcons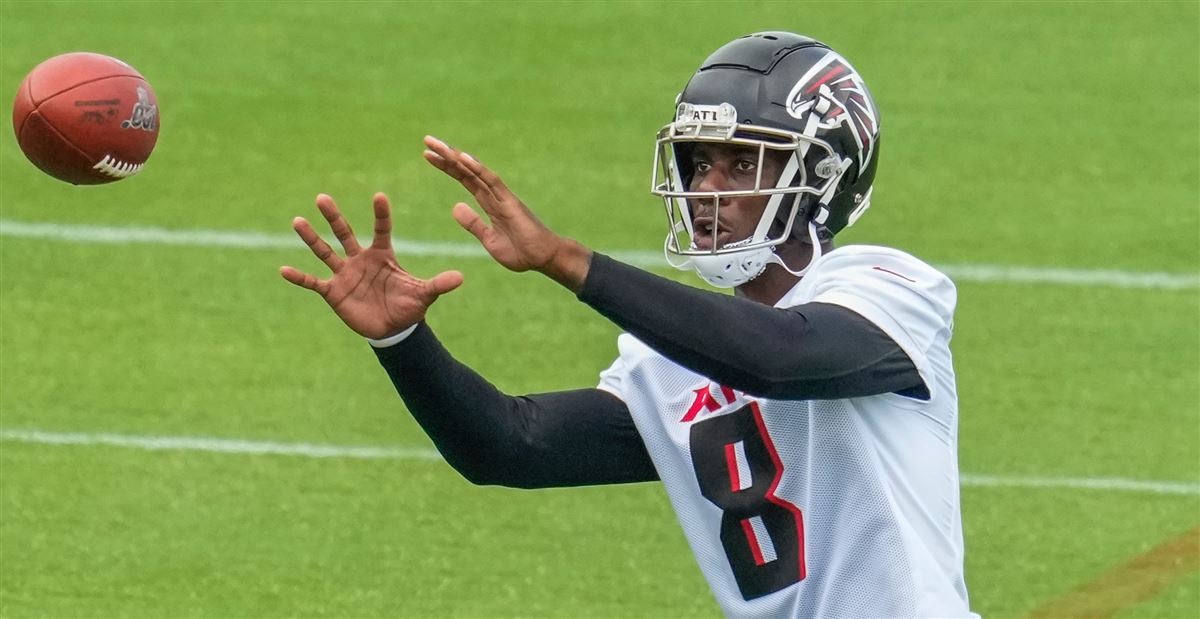 Following a disappointing 4-12 season the Atlanta Falcons are +700 to win the division. 2020 Head Coach Dan Quinn was fired (alongside GM Thomas Dimitroff) after an 0-5 start to the season. Titans offensive coordinator Arthur Smith was hired to lead Atlanta this season and attempt to revive QB Matt Ryan's passing prowess. First round pick TE Kyle Pitts gives Smith and Ryan a new weapon to go alongside rising superstar WR Calvin Ridley. Longtime Falcons wideout Julio Jones has moved on to the Titans and Atlanta will be counting on new acquisition RB Mike Davis to help balance out their offensive attack.
Atlanta's defense was a key contributor to their poor performance last season. They gave up a league worst 293.6 passing yards-per-game. A number that may have been worse if opposing teams weren't trying to run out the clock during many of the Falcons games last year. New defensive coordinator, 71-year old Dean Pees, has had success in previous stints but will have his hands full trying to turn around this defense.
Carolina Panthers
Panthers stud RB Christian McCaffrey appeared in only 3 games during an injury plagued 2020-21 season. His inconsistent availability, along with QB Teddy Bridewater's lack of development, hindered Carolina's performance. Bridgewater is out, QB Sam Darnold is in, McCaffrey is healthy, and 2nd year HC Matt Rhule is hopeful for a better season. Darnold has better weapons in wide receivers Robby Anderson, DJ Moore, and rookie Terrance Marshall Jr. than he ever did in New York and will be looking to revive his (so far) disappointing career.
The Panthers defense was middle-of-the-road is almost every category last season but with the addition of 1st round pick CB Jaycee Horn will seek to take the next steps forward towards becoming one of the league's best defenses. Darnold's play during his second career opportunity will determine whether the Panthers (+950) have any shot of winning the NFC South this year.
2021-22 Predictions
Tampa Bay Buccaneers 13-4
Carolina Panthers 9-8
New Orleans Saints 8-9
Atlanta Falcons 5-12
NFC South Best Bets
Tampa Bay Buccaneers to win the NFC South (-185) – By November, they'll be at least -300. Bet it now and thank me later. I also like them +300 to win the NFC and +650 to repeat as Super Bowl Champs.
Tampa Bay WR Chris Godwin UNDER 1,075.5 receiving yards (-112) – He had 840 yards last season, has missed at least 2 games in each of the past 2 seasons, and Brady will spread the ball around.
Atlanta RB Mike Davis OVER 800.5 yards (-112) – In his eighth NFL season but first as a clear-cut RB1 Davis doesn't have anyone to steal rushing touches and will get plenty of carries to clear this number.
Carolina Panthers to make the playoffs (+270) – I'm banking on QB Darnold panning out and the Saints and Falcons having poor seasons.