If you missed our previous division preview of the NFC East check it out here.
Today we head up to the frozen tundra and take a look at the NFC North.
What happened last season?
Green Bay Packers 13-3
Chicago Bears 8-8
Minnesota Vikings 7-9
Detroit Lions 5-11
The Chicago Bears snuck into the playoffs with the 7th and final wild card spot but were immediately ousted by the New Orleans Saints 21-9.
After securing a bye week in round one of the playoffs with the #1 seed in the NFC, the Green Bay Packers took down the LA Rams 32-18 before falling to the eventual Super Bowl Champion Tampa Bay Buccaneers 31-26 in a memorable NFC Championship Game showdown. In case you forgot how wild the ending to that game was, check out this 4-minute clip of the game's final plays. Should Packers Head Coach Matt LaFluer have gone for it on 4th-and-Goal down 8 points? Probably yes. Could QB Aaron Rodgers have scored with his legs on 2nd-and-Goal and 3rd-and-Goal? Also, probably yes.
What to expect this season?
Will Aaron Rodgers' (likely) last dance with the Packers end in another playoff run? That is the question for this division this season. How QB Justin Fields performs in his rookie season for the Chicago Bears (and when he overtakes QB Andy Dalton for QB1), if Vikings WR Justin Jefferson can keep up his dominance during his second NFL season, and the astronomical caffeine absorption of Detroit Lions HC Dan Campbell are all fun story lines. However, Rodgers and the Packers will dominate the media coverage in this division, and for good reason given just how close they were to making the Super Bowl last season.
Let's examine the NFC North team-by-team:
Green Bay Packers
Yes, he won NFL MVP last season, but Rodgers didn't single-handily lead Green Bay to a 13-3 record. RB Aaron Jones has become a top-10 back in the league, WR Davante Adams is the best all-around WR is football, and the offensive line finished the season ranked 2nd best in the NFL according to PFF. Defensively, the Packers wound up in the top half on most team defense statistics following the 2020-21 season and rookie 1st round pick CB Eric Stokes from Georgia will look to sure-up an already decent secondary. Green Bay are the favorites to win the division at -145 (odds taken from FanDuel Sportsbook on 8/12/21).
Minnesota Vikings
We already mentioned WR Justin Jefferson's insane rookie season (88 receptions, 1,400 yards, 7 TDs) but don't forget what RB Dalvin Cook did (1,557 rushing yards, 361 receiving yards, and 17 total TDs). Alongside a serviceable QB in Kirk Cousins (with 3rd round pick QB Kellen Mond patiently waiting for his shot), catch-machine WR Adam Thielen, and 1st round pick OT Christian Darrisaw; the Vikings are a force to be reckoned with offensively. Defensively, life could be better in Minnesota. The Vikings gave up the 4th most points in the league last season (475) and 6th most yards (6,292). However, HC Mike Zimmer is known as a defensive guru and the Vikings went all-out in free agency to strengthen their defense with signings including DT Sheldon Richardson and CB Patrick Peterson. If Cousins stays consistently adequate and the defensive signings pay off, Minnesota (+250) could be in play to win the NFC North.
Chicago Bears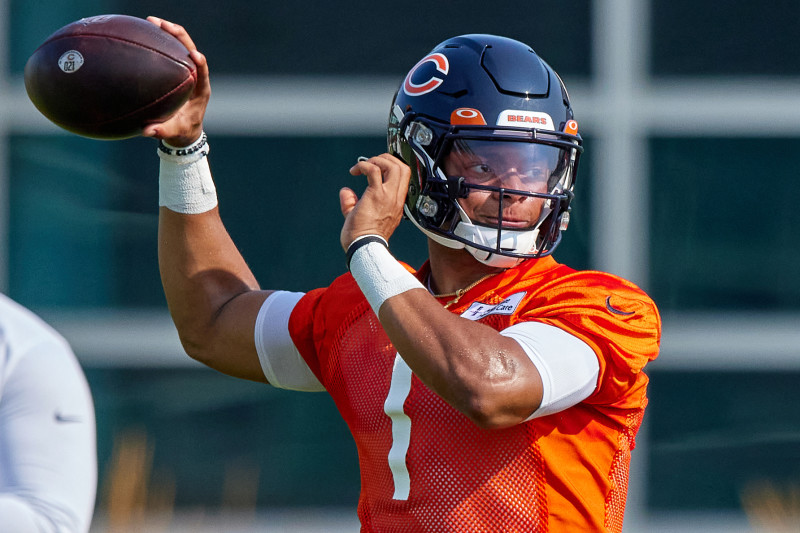 Regardless of if he stars Week 1, Chicago's goal this season is to see what they may have in Fields. He has a suitable offensive line in front of him that was bolstered by 2nd round pick OT Teven Jenkins, and solid weapons to get the ball to, specifically WR Allen Robinson and RB David Montgomery. Although he's lost a step, OLB Khalil Mack still leads a strong defensive unit that gave up the 2nd-fewest rushing TDs in the NFL last season (11 – tied with NO Saints). The Bears (+500) are a long shot to win the division for good reason, but just like last season sneaking into the playoffs again isn't entirely implausible.
Detroit Lions
The Detroit Lions (+1900) trail only the Houston Texans (+2300) for lowest odds to win their division. They traded away QB Matthew Stafford for QB Jared Goff and picks ensuring that they plan on tanking this year. If you're looking for a positive, rookie OT Penei Sewell should provide a solid foundation on the offensive line for whoever the future Lion's QB may be. Other than that, and maybe RB D'Andre Swift, things get bad quick. Detroit had the worst defense in the NFL last season giving up the most yards AND most points. New HC Dan Campbell seems energetic and optimistic, but there's a solid chance Detroit is picking in the top 3 of the 2022 NFL Draft.
2021-22 Predictions
Green Bay Packers 11-6
Minnesota Vikings 9-8
Chicago Bears 7-10
Detroit Lions 3-14
NFC North Best Bets
Detroit Lions UNDER 5 wins (-120) – Even with a 17-game schedule, Detroit won't reach this number.
Green Bay Packers to win the NFC North (-145) – Barring injuries, this is as close to a lock as you can get with a season-long bet and a great parlay piece.
QB Aaron Rodgers most Regular Season Passing TDs (+850) – He led the league last year with 48 followed by Wilson and Brady with 40. Yes, injuries and games played have a huge role in a bet like this, but for +850 I'll take my chances with Rodgers repeating.
Minnesota Vikings to finish 2nd in the NFC North (+150) – They won't overtake the Packers, but they're better than the Bears and Lions.