Football is back! From this week until the Super Bowl there is either a College or NFL game every week. Hallelujah.
We will be previewing each NFL Division leading up to the first regular season game on Thursday, September, 9th (Dallas Cowboys vs. Tampa Bay Buccaneers 8:20 pm. EST).
Up first, is the dismal NFC East:
What happened last season?
Not a lot. Here's where things stood out the end of last season:
Washington Football Team 7-9
New York Giants 6-10
Dallas Cowboys 6-10
Philadelphia Eagles 4-11-1
Despite Taylor Heinicke's heroics, Washington was immediately bounced from the playoffs with a 31-23 loss to the eventual Super Bowl Champion Tampa Bay Buccaneers.
What to expect this season?
Not much better. With the return of QB Dak Prescott following a season-ending ankle injury, Dallas is the favorite to win the division this year at +130 (odds taken from FanDuel Sportsbook on 8/4/21). Dallas's greatest downfall last year was their defense and they will be counting on an immediate impact from LB Micah Parsons to turn things around. Offensively, the Cowboys give opposing defensive coordinators nightmares with Prescott, RB Ezekiel Elliott, WR Amari Cooper, and WR Cee-Dee Lamb. If the defense improves slightly and the offensive stars stay healthy, Dallas is the team to beat in the NFC East this season.
Washington (+260) is counting on journeyman QB Ryan Fitzpatrick (9 different teams since entering the league in 2005) to take over the offensive and feed their young stars RB Antonio Gibson and WR Terry McLaurin. Defense is what led Washington to a better-than-expected season last year and they will be relying on DE's Chase Young and Montez Sweat to terrify opposing QBs all season long. If they can pull some "Fitzmagic" from their QB and Young continues his development into the best DE in football, Washington could very well win the NFC East yet again.
The New York Giants (+390) are the most perplexing team to predict in the NFC East. RB Saquon Barkley returns following a season-ending injury in Week 2 of the 2020 season. QB Daniel Jones has shown flashes of brilliance, with a few trip-ups along the way. WR Kenny Golladay was a key free-agent acquisition this off-season. The defense, despite lacking star-power, was more than serviceable last season allowing the 12th fewest yards-per-game (349.3) and 9th fewest points points-per-game (22.3) in the NFL. It is just as plausible the Giants go 11-6 and win the division as it is they go 3-14 and 2nd year head coach gets fired mid-season (remember, teams will play 17 regular season games this year).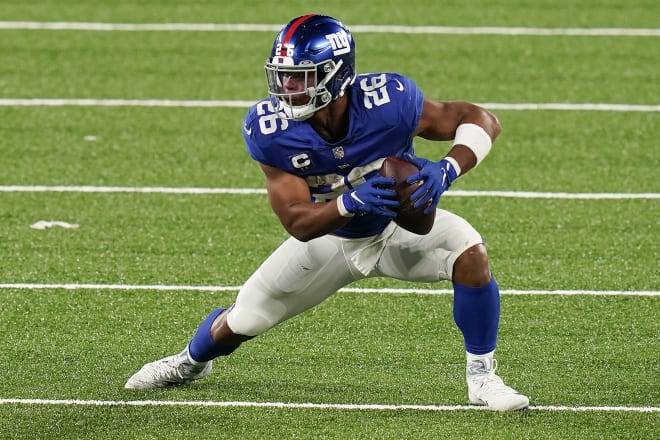 Just four season ago the Philadelphia Eagles (+470) were parading down Broad Street and all truly was sunny in Philadelphia. Now the Eagles are led by first-year HC Nick Sirrani, QB Jalen Hurts, and only a handful of players left over from the 2017-18 Super Bowl team. The Eagles have plenty of draft capital to make a big move next off-season and this year is more about determining Hurts future in Philly than anything else. They will still be competitive in the division given their lackluster competition, but don't expect another parade anytime soon.
2021-22 Predictions
Dallas Cowboys (10-7)
Washington Football Team (8-9)
Philadelphia Eagles (5-12)
New York Giants (4-13)
NFC East Best Bets
New York Giants UNDER 7 wins (+110) – See above
WR Amari Copper UNDER 1,200.5 Receiving Yards (-112) – He's never gone above this number in his career. Despite having another game to do it, the emergence of WR Cee-Dee Lamb makes it unlikely that changes this season.
Dak Prescott (+200) to win NFL Comeback Player of the Year – He's the favorite for this award going into the season and as long as he doesn't miss more than 2 or 3 games should win easily.
Chase Young (+1100) to win NFL Defensive Player of the Year – It's hard to imagine LA Rams DT Aaron Donald not winning this award, but if anyone could overtake him it very well could be Young. At these odds, it is worth a shot.