A LOT has changed since our first mock draft in mid-March. Trades, free-agency signings, and pro-days have all impacted one of the most divisive draft classes in recent memory following the COVID-shortened college football season. Here's what we think happens tonight in Cleveland during the first round of the 2021 NFL Draft:
1) Jacksonville Jaguars – Trevor Lawrence – QB – Clemson
Not much more to say here. Urban Meyer would still be working for FOX if it wasn't for the Jaguars locking up the #1 pick and the right to see how Lawrence's game translates to the NFL.
2) New York Jets – Zach Wilson – QB – BYU
Three months ago you would be crazy for slotting Wilson into this spot. Now, you'd be crazy not to. Almost as much as a lock as Lawrence, Wilson will take his talents to the Big Apple. Good luck young man.
3) San Francisco 49ers – Mac Jones – QB – Alabama
The most discussed pick of the 2021 draft. After trading with Miami to move up to this spot QB's Jones, Justin Fields, and Trey Lance have all been rumored to be the selection here. However, Jones has been rumored more than the rest and appears to be Head Coach Kyle Shanahan's preferred QB of the future.
4) Atlanta Falcons – Kyle Pitts – TE – Florida
Regardless of whether they trade Julio Jones or not, the Falcons don't overthink things and take the best playmaker available.
5) Cincinnati Bengals – Ja'Marr Chase – WR – LSU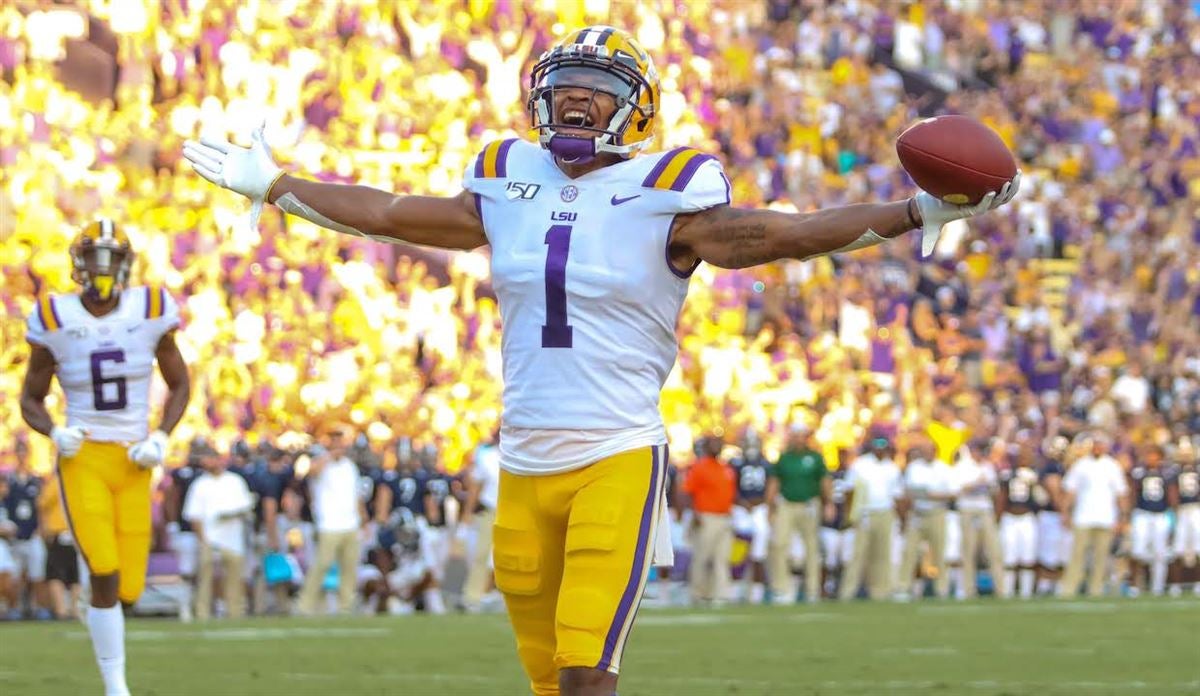 The Bengals have the rest of the draft to address the offensive line. They can't pass up the opportunity to take QB Joe Burrow's former teammate and the best wide receiver in this draft class.
6) Miami Dolphins – Devonta Smith – WR – Alabama
Either Smith or WR Jaylen Waddle make sense here but we have the Dolphins going with the current Heisman Trophy winner.
7) Detroit Lions – Penei Sewell – OT – Oregon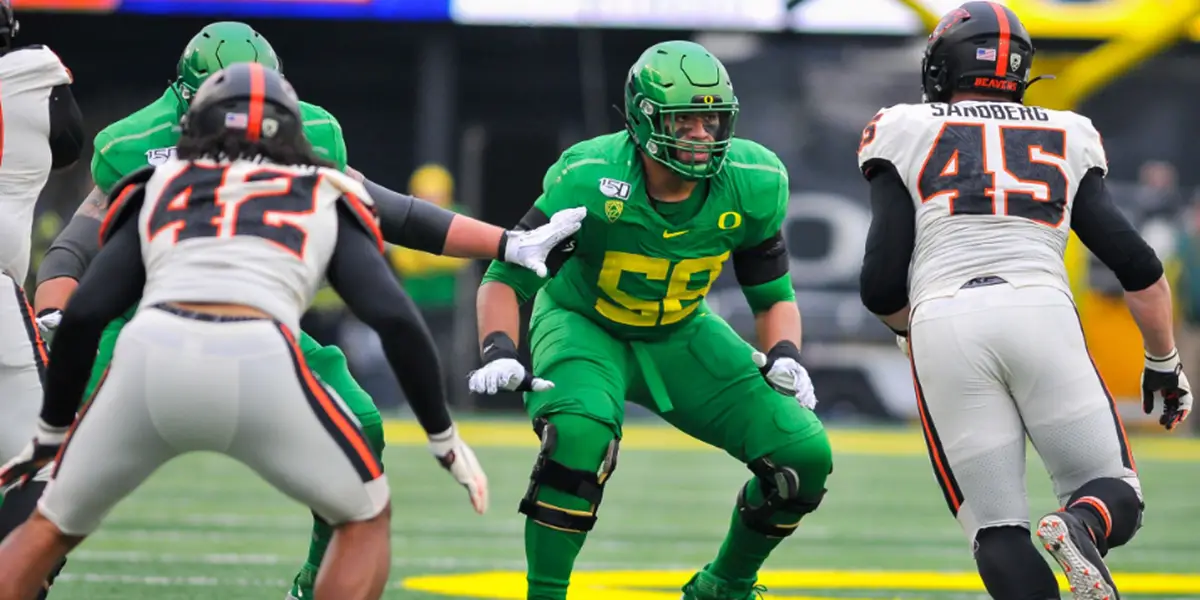 If the Lions truly want to give QB Jared Goff a shot after acquiring him this off-season, it makes perfect sense to help him stand up-right with the best tackle in the draft class.
8) Carolina Panthers – Rashawn Slater – OT – Northwestern
Similar to Detroit, the Panthers help protect their recently acquired QB – Sam Darnold.
9) New England Patriots – Justin Fields – QB – Ohio State
(TRADE – New England trades picks 15, 139, and a 2022 1st for pick 9 from the Denver Broncos)
I don't think the Patriots will be the only team looking to trade up for Fields, but after their all-in off-season approach they make the most sense to get a deal done.
10) Dallas Cowboys – Patrick Surtain II – CB – Alabama
CB is a need for Dallas and Surtain II appears to be a lockdown corner from Day 1.
11) New York Giants – Micah Parsons – LB – PSU
One of the most discussed prospects heading into the draft, Parsons is not without faults and concerns. However, his talent is too much for defensive minded Head Coach Joe Judge to pass up.
12) Philadelphia Eagles – Jaycee Horn – CB – South Carolina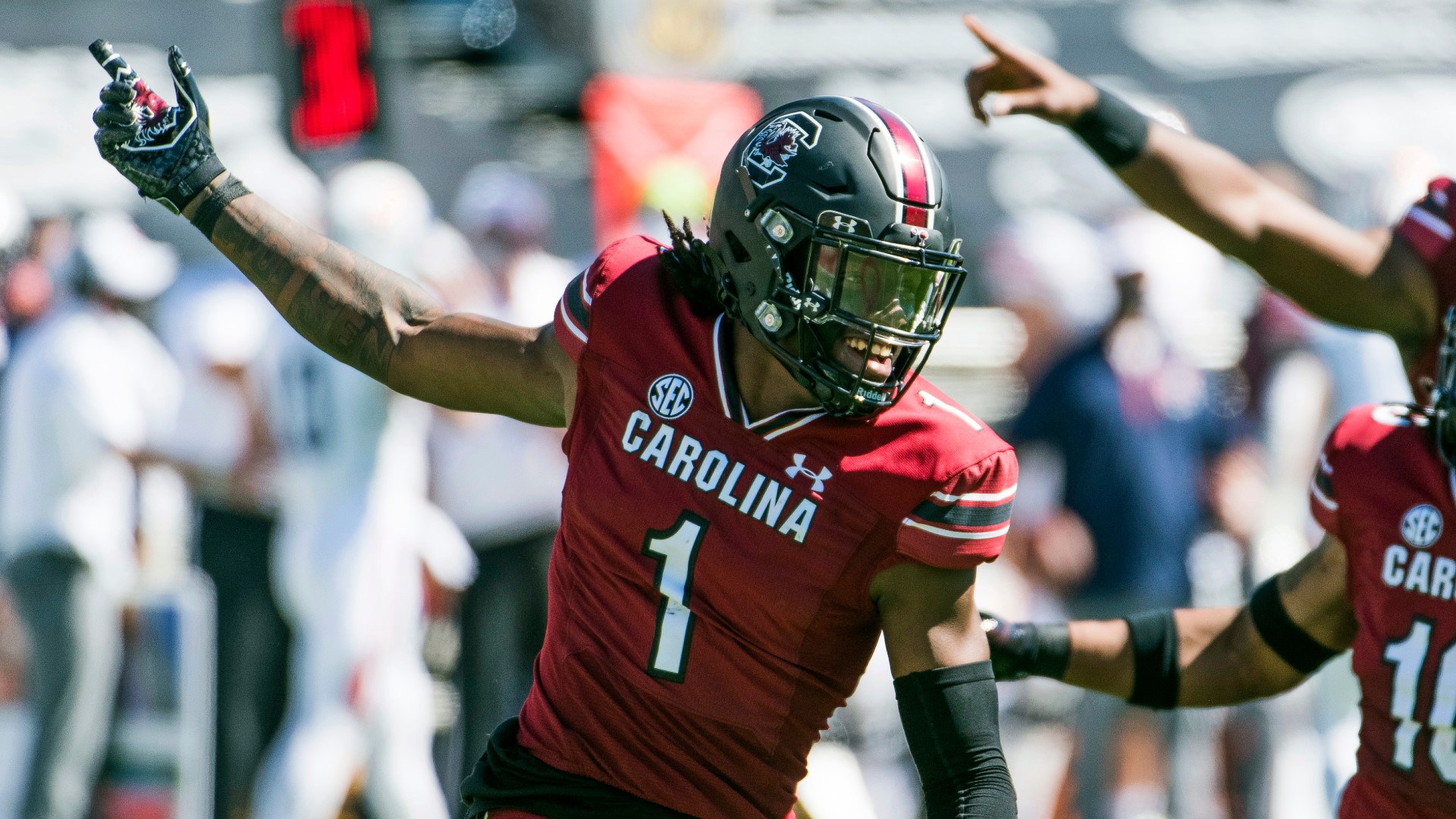 Both Waddle and Horn make sense here, but it seems more likely the Eagles go defense and then either trade back into the 1st round or use their pick at #37 to select a pass-catcher.
13) Los Angeles Chargers – Christian Darrisaw – OT – Virginia Tech
Justin Fields rejoices. Chargers fans would rejoice as well, but they don't exist.
14) Minnesota Vikings – Jaylen Waddle – WR – Alabama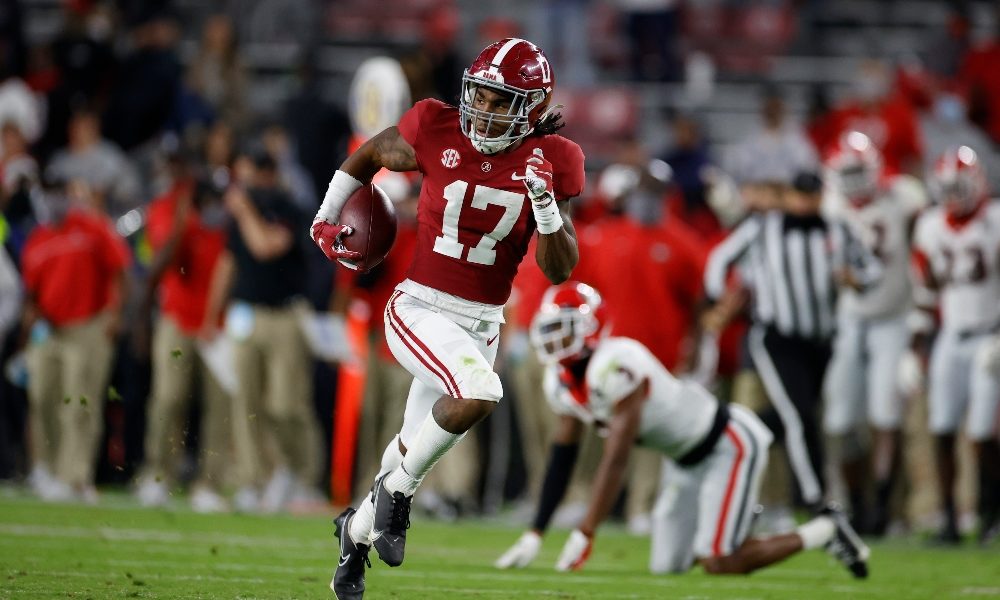 Waddle + Justin Jefferson + Adam Thielen + Dalvin Cook = One scary offense
15) Denver Broncos – Najee Harris – RB – Alabama
After trading for Teddy Bridgewater, the Broncos seem content to let Teddy and incumbent QB Drew Lock battle it out. Harris instantly helps alleviate the pressure off of whomever ultimately wins the QB1 spot.
16) Arizona Cardinals – Greg Newsome II – CB – Northwestern
Patrick Peterson is gone and Newsome II tries his best to fill his spot.
17) Oakland Raiders – Trey Lance – QB – North Dakota State
Lance has been rumored to go all over the place over the past months. If he falls this far, the Raiders pounce on the opportunity to give Derek Carr some true competition (sorry Marcus Mariota and Nathan Peterman).
18) Miami Dolphins – Alijah Vera-Tucker – OG – USC
Operation "See if Tua is for real" continues.
19) Washington Football Team – Rashod Bateman – WR – Minnesota
Washington will try their best to trade up for one of the falling QB's, but if they can't make a deal happen they address another need with the talented and well-rounded Bateman.
20) Chicago Bears – Jeremiah Owusu-Koramoah – LB – Notre Dame
Parsons has gotten all the LB hype, but Owusu-Koramoah (good luck pronouncing that) is arguably more NFL ready.
21) Indianapolis Colts – Kadarius Toney – WR – Florida
The Colts saw what Carson Wentz looked like when he didn't have anyone to throw the ball to and do everything they can to prevent that from happening in Indianapolis.
22) Tennessee Titans – Kwity Paye – EDGE – Michigan
With an awesome background story and work-ethic, I have a feeling Paye and Titans coach Mike Vrabel will get along just fine.
23) New York Jets – Travis Etienne – RB – Clemson
Etienne and Zack Wilson become the most unlikely of friends as they attempt to survive their rookie seasons on the Jets together.
24) Pittsburgh Steelers – Creed Humphrey – C – Oklahoma
Maurkice Pouncey retired after an extremely successful career, and the Steelers look to find his replacement.
25) Jacksonville Jaguars – Christian Barmore – DT – Alabama
New Jaguars Defensive Coordinator Joe Cullen has said he wants to run a hybrid defense consisting of both 3-4 and 4-3 looks. Barmore's versatility fits perfectly with that plan.
26) Cleveland Browns – Caleb Farley – CB – Virginia Tech
By far the biggest injury risk of all the potential first round selections, but the Browns can afford to take the shot.
27) Baltimore Ravens – Trevon Moehrig – S – TCU
The best safety in the draft by far. The next Ed Reed? Baltimore can only hope.
28) New Orleans Saints – Azeez Ojulari – EDGE – Georgia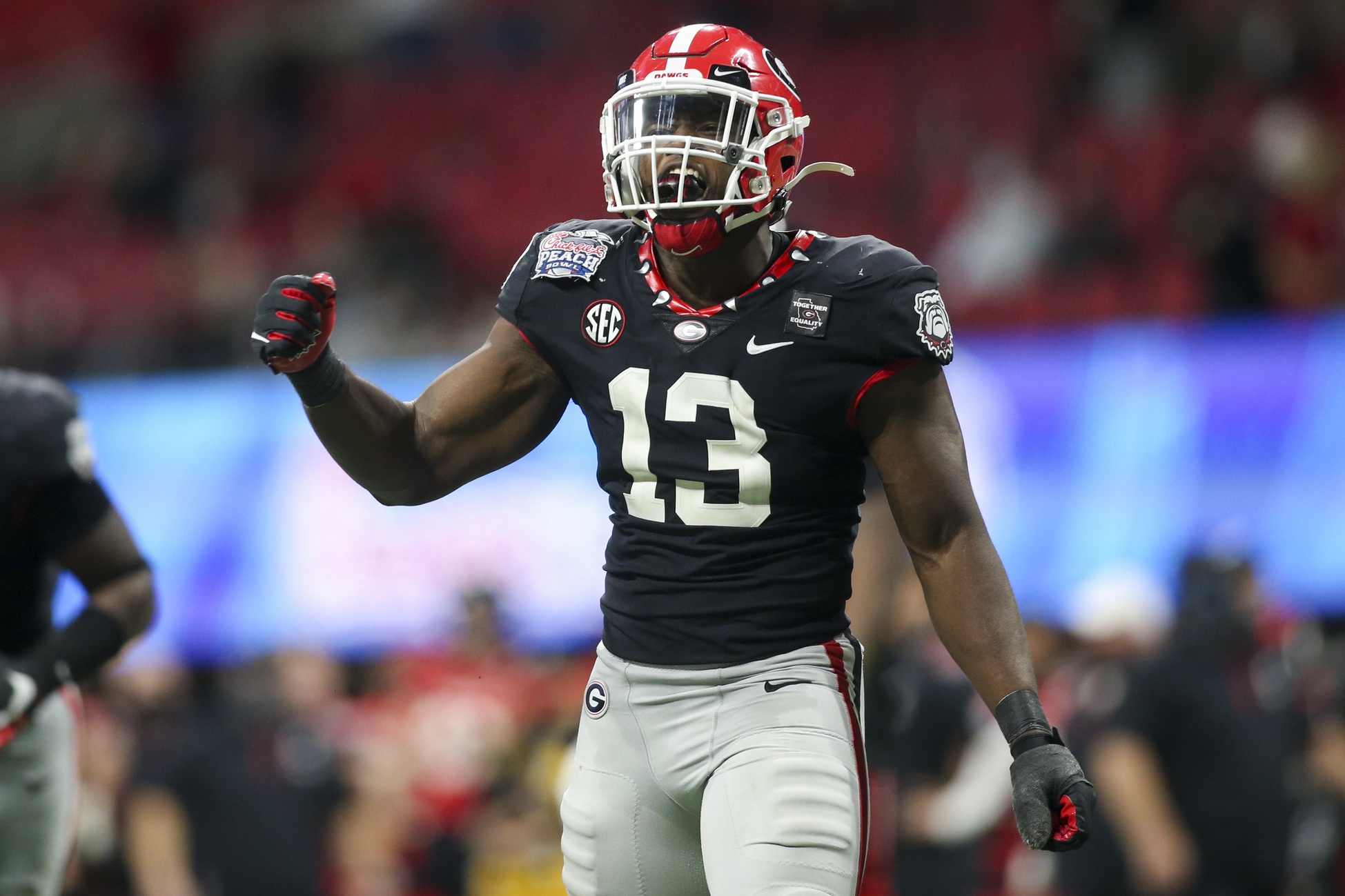 The focus will be on who wins the Taysom Hill/Jameis Winston QB battle, but the needs are on the defensive side for the Saints.
29) Green Bay Packers – Samuel Cosmi – OT – Texas
After the Jordan Love selection last year, the Packers should let Aaron Rodgers make the team's pick. And if he did, he'd probably go with some protection up front.
30) Buffalo Bills – Zaven Collins – LB – Tulsa
The most conventional linebacker of the first round selections and a great addition to the Bill's promising young roster.
31) Baltimore Ravens – Teven Jenkins – OT – Oklahoma State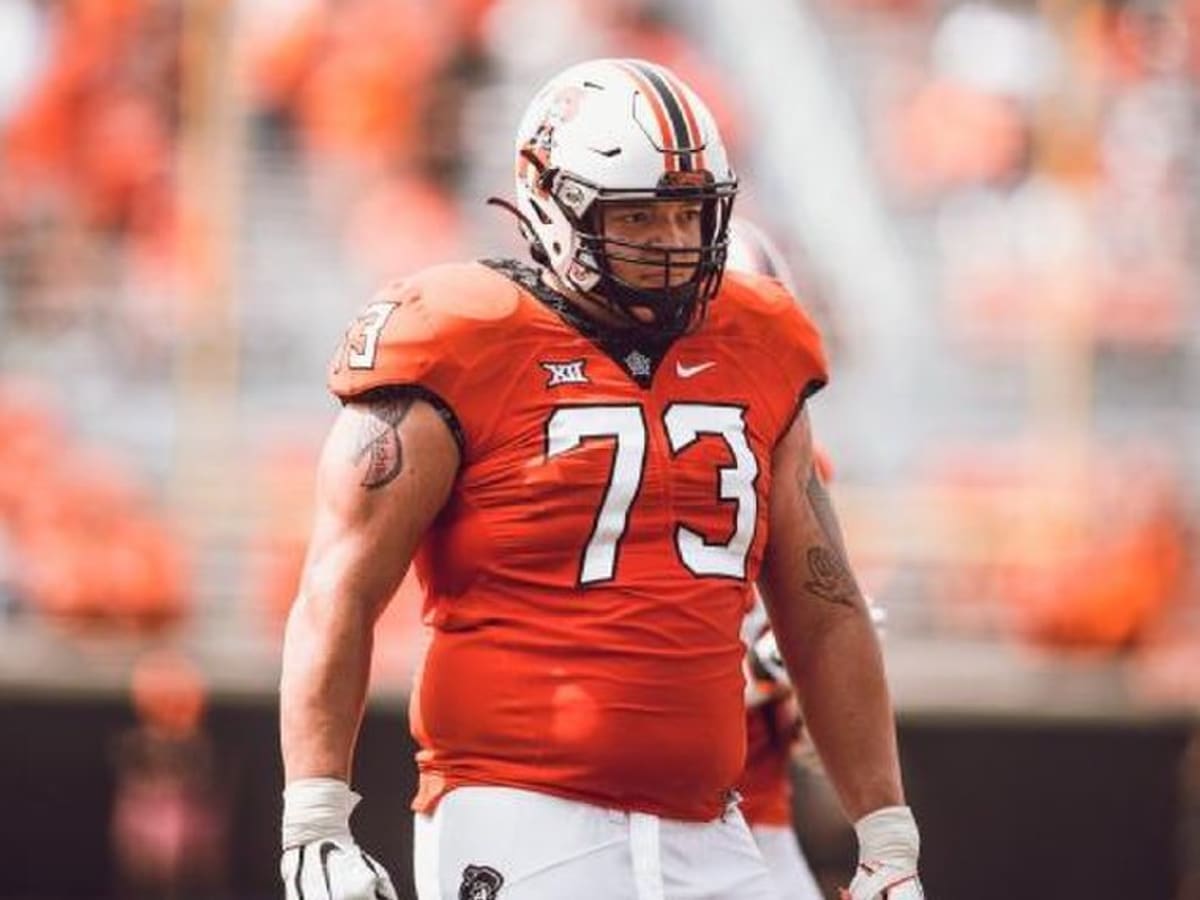 Lamar Jackson was running around a little too much last season. Jenkins immediately helps solve that problem.
32) Tampa Bay Buccaneers – Gregory Rousseau – EDGE – Miami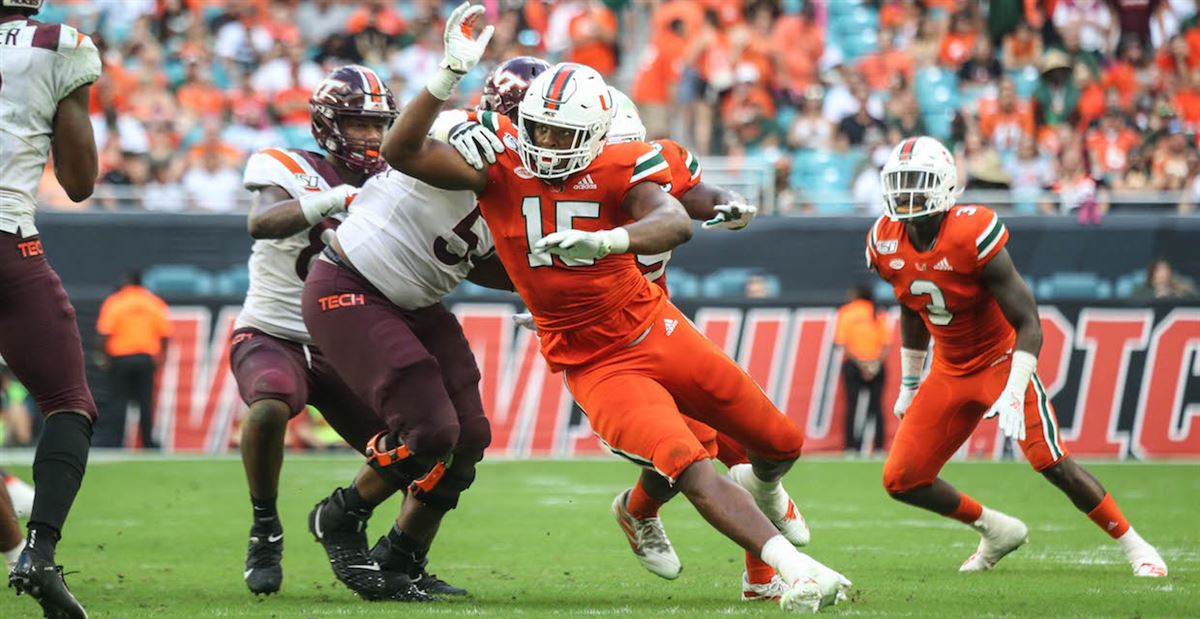 The Bucs are the first team ever to win the Super Bowl and then bring back all 22 starters. They might as well take the best player available and Rousseau would love to stay in-state and join the Bucs talented defense.