1. Jacksonville Jaguars – Trevor Lawrence – QB – Clemson
The Jets decided to beat the Rams and Browns in back-to-back weeks during the 2020 NFL season and will now miss out on the clear-cut #1 pick in the draft. Lawrence may struggle initially due to the lack of talent around him in Jacksonville but within 5 years he'll be a top 5 QB in the league.
2. New York Jets – Zach Wilson – QB – BYU
The Jets consolation prize is Wilson – an interesting prospect who is Russell Wilson-like at his best and more often a poor man's Baker Mayfield (or just regular Baker Mayfield). In 3 seasons and 38 games played Sam Darnold has 45 TDs, 39 INTs, and a 78.6 QB rating. Good enough to be a back-up somewhere, but bad enough that it's time for the Jets to move on.
3. Miami Dolphins – Ja'Marr Chase – WR – LSU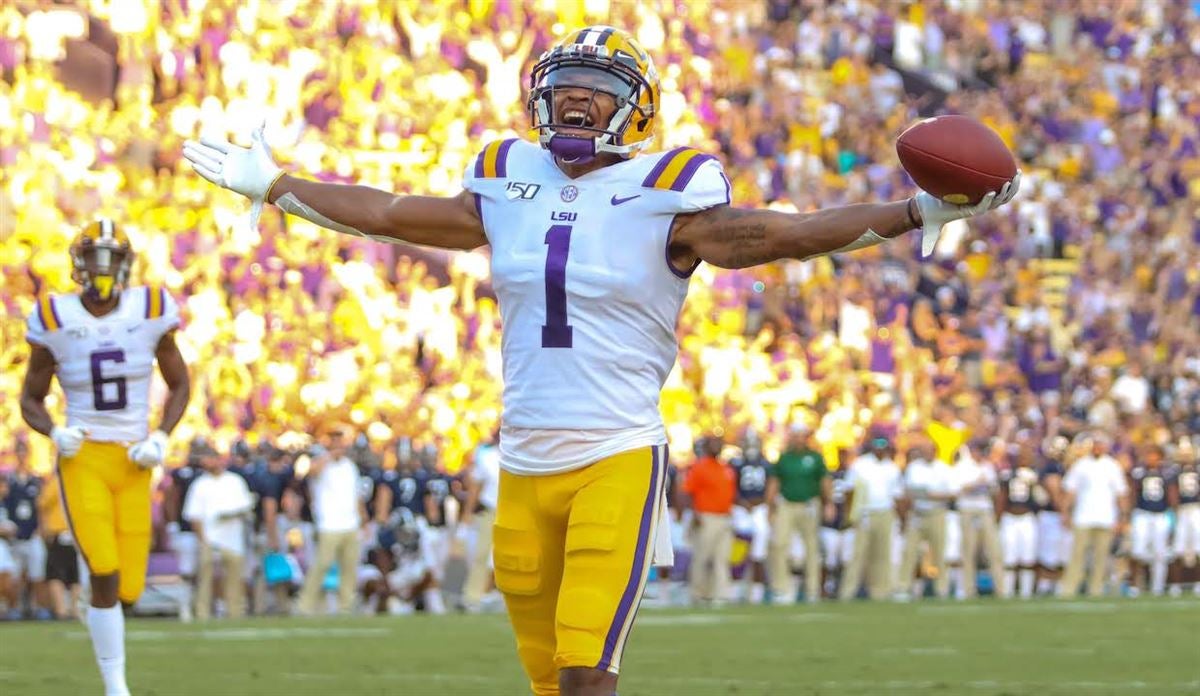 Providing Tua Tagovailoa with better offensive weapons has to be a priority for Miami. Chase is arguably the most NFL ready WR option in this draft class and after opting-out of the college football season he should be eager to contribute right away for the Dolphins.
4. Atlanta Falcons – Kyle Pitts – TE – Florida
For better or for worse, Atlanta seems committed to running it back with Matt Ryan for one more season. Given that the Falcon's greatest weaknesses are likely on the defensive side of the ball a trade back here makes sense. If they stay put, expect them to give Ryan another talented pass catcher.
5. Cincinnati Bengals – Penei Sewell – OL – Oregon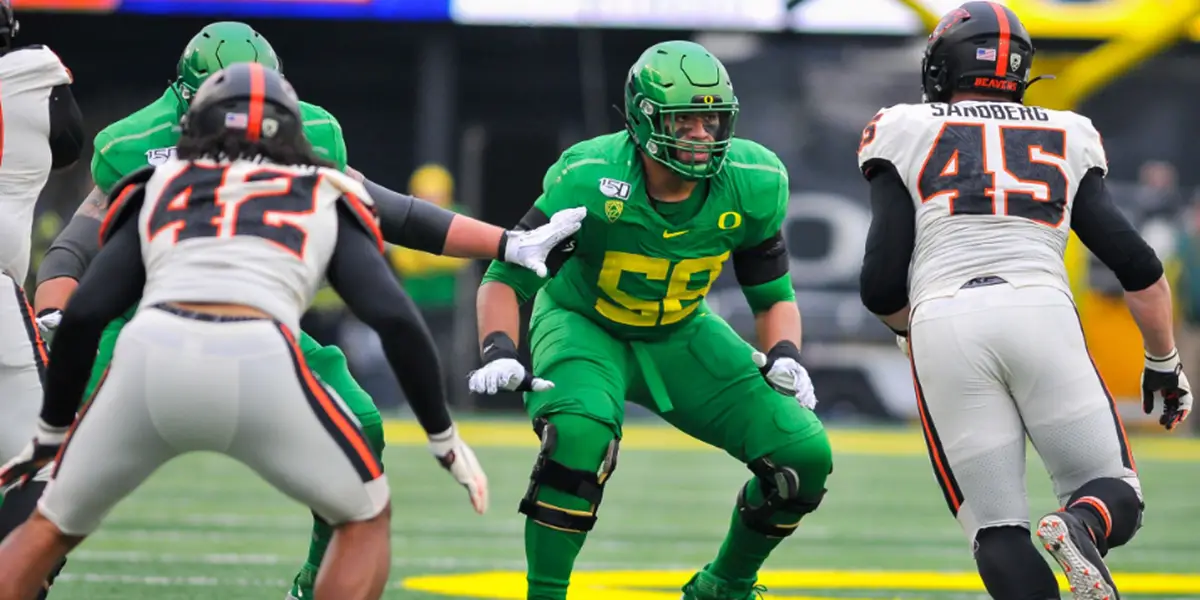 Before getting injured, Joe Burrow showed a lot of promise last season. The Bengals don't overthink this pick and give Burrow some added protection moving forward.
6. Philadelphia Eagles – DeVonta Smith – WR – Alabama
Given their numerous needs on both sides of the ball and the rebuilding mindset that comes with having a new head coach in Nick Sirianni, the Eagles may look to trade back. But after tanking in Week 17 of the 2020 season to get pick #6 it is more likely that stay here and address one of those weaknesses at the WR position with the Heisman trophy winner Smith.
7. Detroit Lions – Jaylen Waddle – WR – Alabama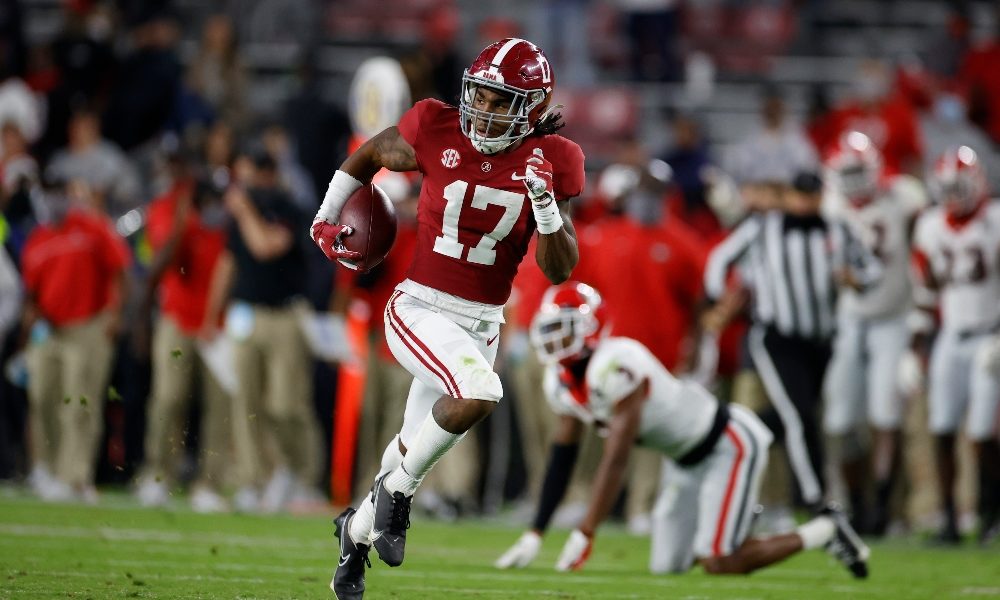 The offensive player onslaught continues as Detroit improves their pass-catching core with the selection of back-to-back Alabama WRs.
8. Carolina Panthers – Trey Lance – QB – North Dakota St.
Carolina takes the upside of the unproven Lance over Ohio St. QB Justin Fields and Alabama QB Mac Jones. The need for a QB is warranted but prepare yourself for endless Lance/Cam Newton comparisons.
9. Denver Broncos – Caleb Farley – CB – Virginia Tech
After investing heavily in offense the past two drafts with TE Noah Fant, WR Jerry Jeudy, and QB Drew Lock, the Broncos fill a hole at CB with Farley.
10. Dallas Cowboys – Patrick Surtain II – CB – Alabama
Committed to QB Dak Prescott. Surrounded him with offensive talent. Now Dallas looks to shore up their secondary.
11. New York Giants – Rashawn Slater – OL – Northwestern
QB Daniel Jones has shown flashes of success and is worth the offensive line investment here from the G-Men. RB Saquon Barkley won't mind this pick either after returning from injury.
12. San Francisco 49ers – Mac Jones – QB – Alabama
The Niners go into the draft hoping for a QB to push or overtake Jimmy Garoppolo, and are pumped to get Jones here.
13. Los Angeles Chargers – Christian Darrisaw – OL – Virginia Tech
Justin Herbert may be the best QB to come out of the 2020 draft class and the Chargers need to keep him upright.
14. Minnesota Vikings – Kwity Paye – DL – Michigan
The first defensive lineman off the board – Paye is athletic, versatile, and immediately improves the Vikings defense.
15. New England Patriots – Micah Parsons – LB – Penn State
New England has been very aggressive in free agency. After taking care of most of their offensive needs through they now add the athletic linebacker Parsons.
16. Arizona Cardinals – Jaycee Horn – CB – South Carolina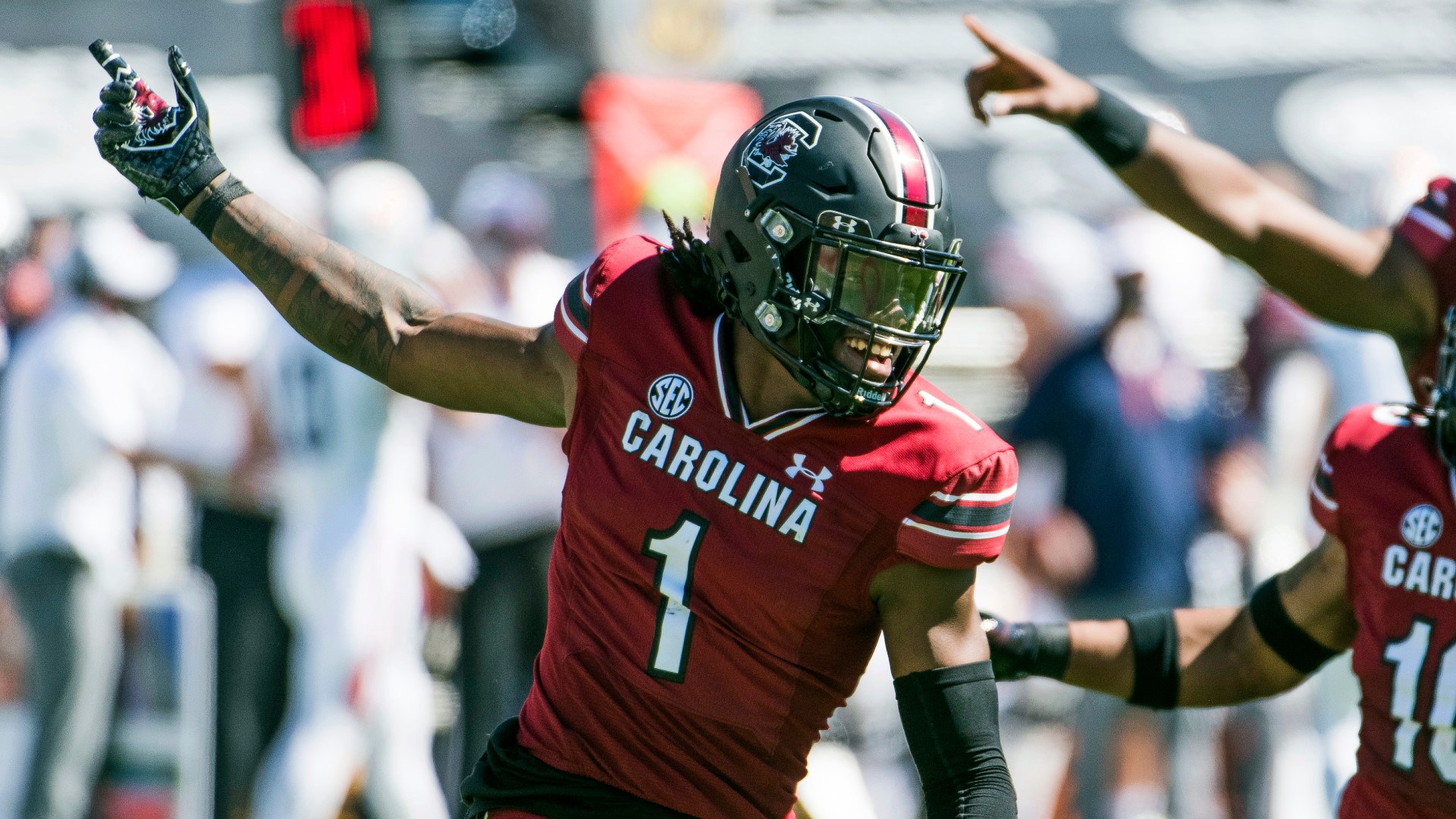 Patrick Peterson is likely gone in free agency and Arizona doesn't appear to have anyone able to replace him already on their roster.
17. Las Vegas Raiders – Christian Barmore – DL – Alabama
After reaching to select WR Henry Ruggs last year, the Raiders go with a more conservative approach in selecting Ruggs' former teammate and this year's top defensive tackle.
18. Miami Dolphins – Jaelan Phillips – DL – Miami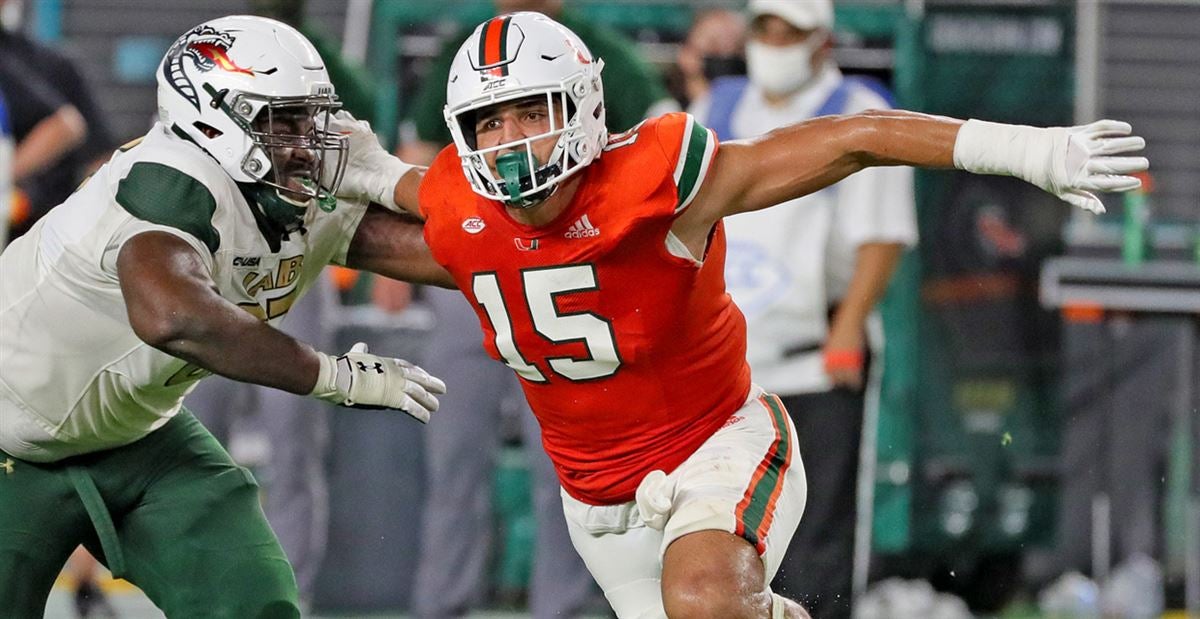 With their 2nd pick in the first round the Dolphins add a pass rushing specialist and 2017's top rated high school recruit. His college career included a brief retirement from football and multiple injuries, but his potential and versatility is too hard to pass up here.
19. Washington Football Team – Rondale Moore – WR – Perdue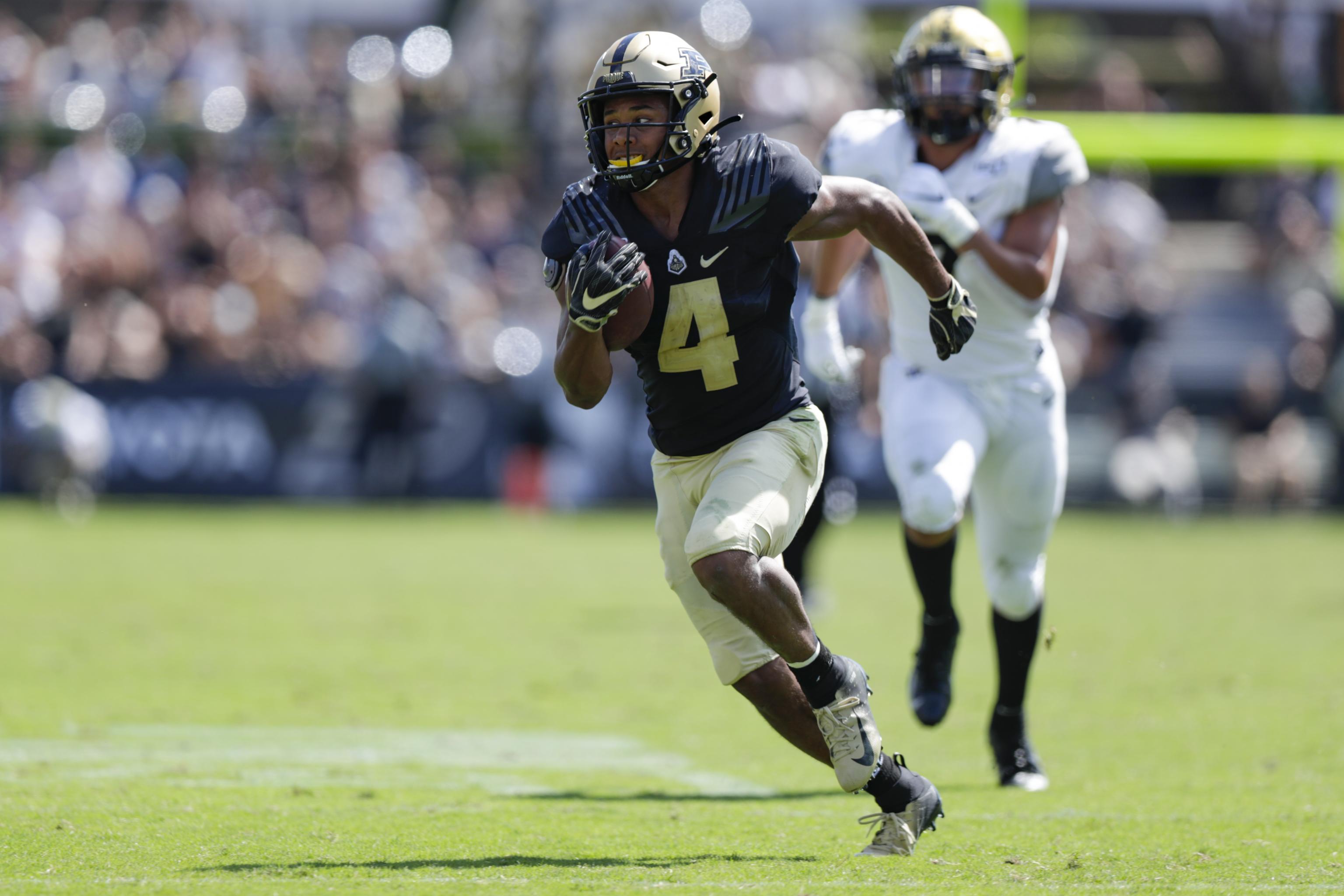 Washington is now the ninth NFL team for QB Ryan Fitzpatrick and he gets a new target right away in the speedy and powerful Moore.
20. Chicago Bears – Teven Jenkins – OL – Oklahoma St.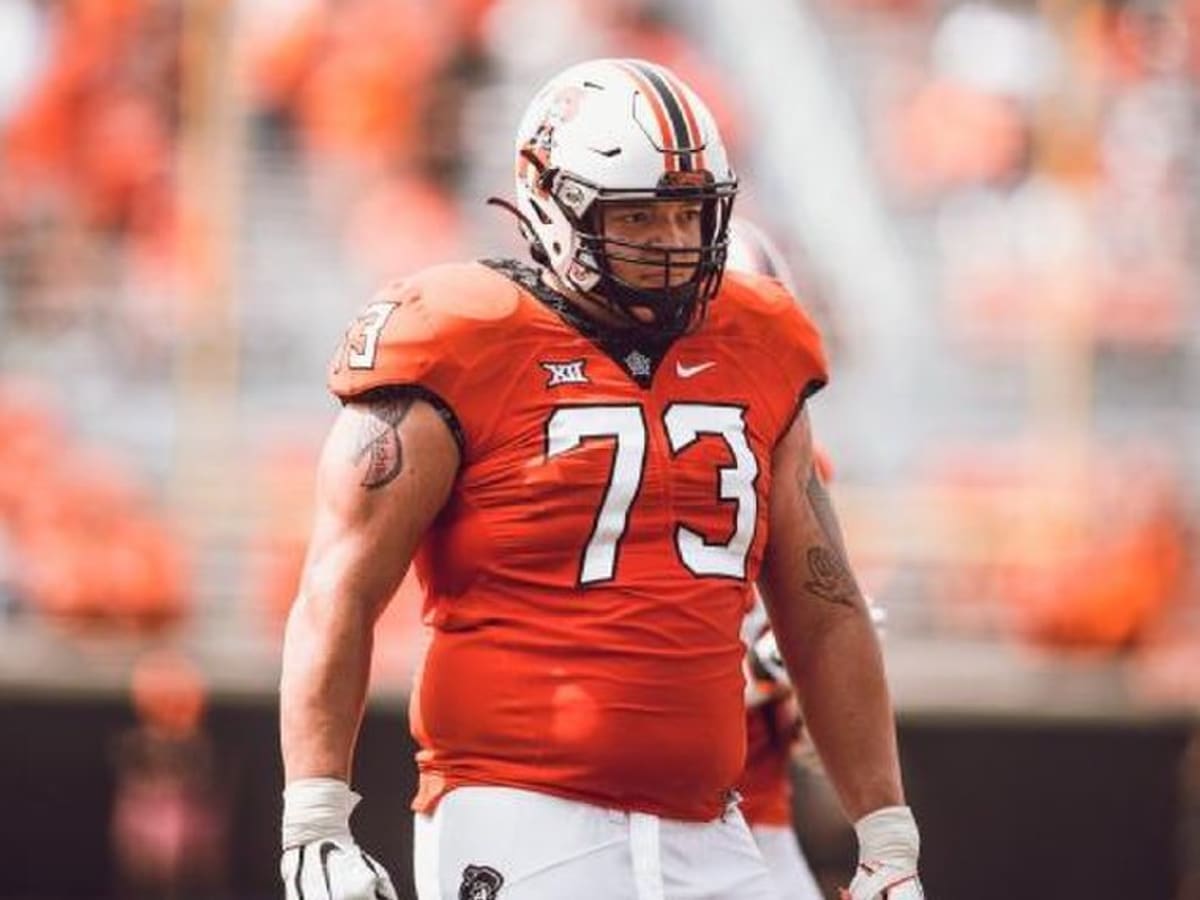 Chicago should be motivated to trade up for a QB, but if not they stay put and help protect whoever that future QB may be.
21. Indianapolis Colts – Kadarius Toney – WR – Florida
The Colts seek to make their new QB Carson Wentz happy with a new slot receiver.
22. Tennessee Titans – Zaven Collins – LB – Tulsa
Even after signing LB Bud Dupree in free agency, Tennessee and Head Coach Mike Vrabel can't pass up adding another linebacker who can contribute immediately.
23. New York Jets – Trevon Moehrig – S – TCU
The Jets go best-player-available here and take this year's top safety prospect.
24. Pittsburgh Steelers – Justin Fields – QB – Ohio State
Pittsburgh is thrilled Fields drops this far. He sits a year behind Big Ben before taking over the helm. Or more likely, he starts a couple games during the 2021 season due to a Roethlisberger injury.
25. Jacksonville Jaguars – Rashod Bateman – WR – Minnesota
The Jags give Lawrence a physical WR to help ease the transition to the NFL.
26. Cleveland Browns – Jayson Oweh – DL – Penn State
Oweh and Myles Garrett could be the top DE tandem in the league.
27. Baltimore Ravens – Gregory Rousseau – DL – Miami (FL)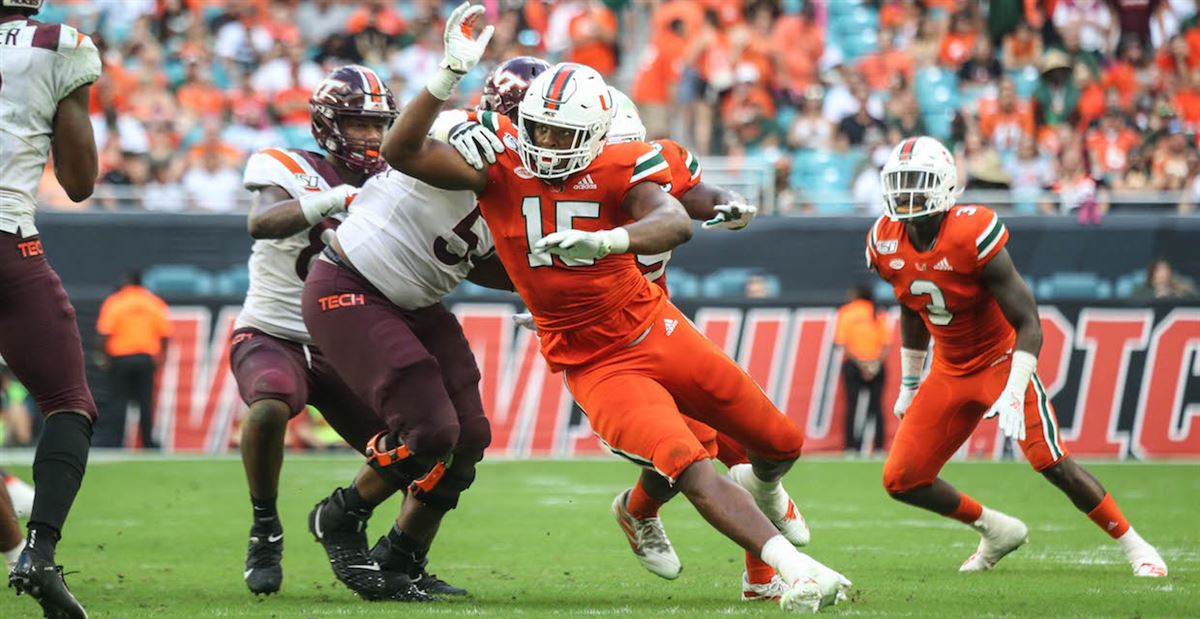 Baltimore adds to their DL depth with this 6' 7" DE.
28. New Orleans Saints – Asante Samuel Jr. – CB – Florida St.
The Saints are tempted to take a QB with the uncertainty of the Jameis Winston/Taysom Hill combo looming, but with the top choices off the board instead look to improve their secondary with the son of a former NFL CB.
29. Green Bay Packers – Elijah Moore – WR – Ole Miss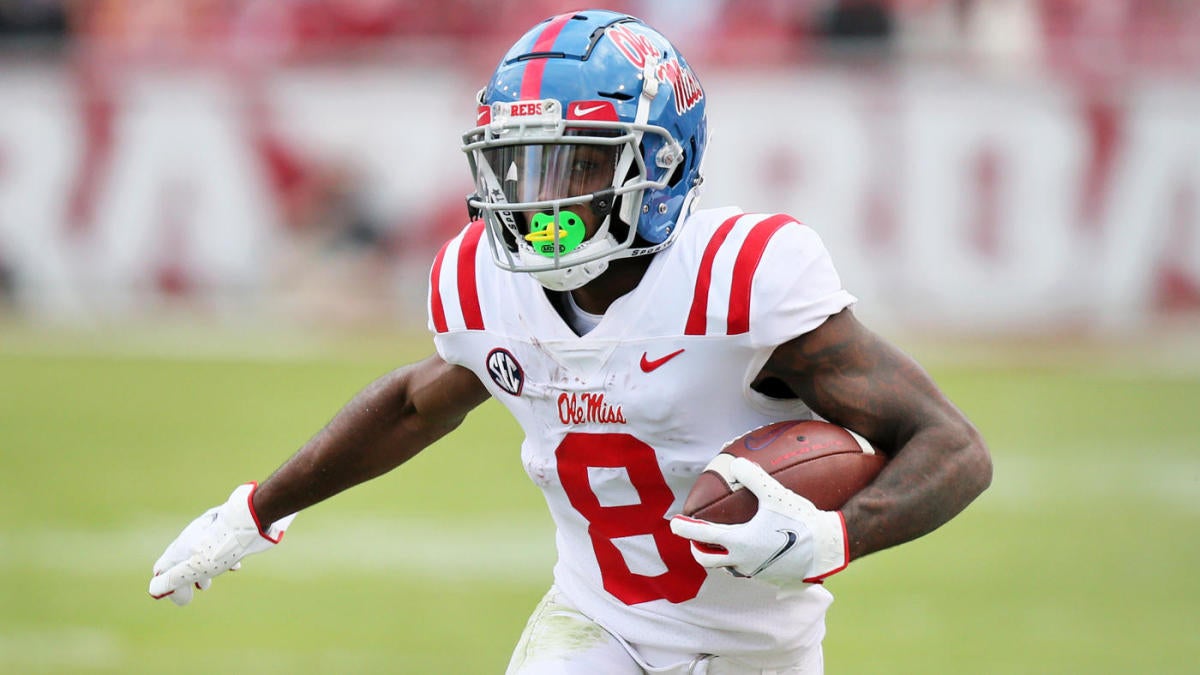 After the Jordan Love selection in last year's draft, the Packers now decide to reward MVP Aaron Rodgers with a pass catcher.
30. Buffalo Bills – Alijah Vera-Tucker – OL – USC
QB Josh Allen is a stud and the Bills will do all they can to protect him.
31. Kansas City Chiefs – Alex Leatherwood – OL – Alabama
Similar to the Bills, the Chiefs do what they can to take care of their half a billion dollar investment QB Patrick Mahomes.
32. Tampa Bay Buccaneers – Travis Etienne – RB – Clemson
RB Leonard Fournette looks to cash in on his strong playoff performance with a big deal elsewhere and Tampa Bay seeks to immediately replace his production for another Super Bowl run.